Description
Follistatin 315 1mg pre-mixed Pen
This product is intended for research and medical purposes only, to be used by trained professionals. Follistatin 315 is a compound made of sugar molecules and protein. Follistatin 315 is mainly produced in the liver, but it's also found in many body tissues. Here are some clinical trials that show the benefits of follistatin 315.
Follistatin 315 inhibits the activity of a wide range of hormones and proteins, including activins, myostatin and Follicle-stimulating hormone (FSH) [1].
Research has suggested that follistatin 315 can increase muscle growth by 200%, enhance fertility and help shed body fat in both women and men. Follistatin 315 activates when you are working out and plays an important role in making your muscles stronger. Research suggests taking follistatin 315 supplements will make you grow muscles swiftly.
Research shows [2] that follistatin 315 accelerates muscle growth by inhibiting myostatin (growth differentiation factor 8), a protein released by myocytes that limits muscle development. In a 2014 study, people took either placebo or follistatin 315 orally for eight weeks together with a weight-lifting training program. Follistatin 315 suppressed myostatin by 44%, tripling muscle growth.
In a study of patients with an inherited disorder called Becker muscular dystrophy, follistatin 315 injections increased their muscle strength, resulting in improvements in their symptoms without adverse effects.
Additionally, clinical trials had evidenced that giving mice follistatin 315 resulted in reduced fat gain [3] and decreased the size of adipocytes (fat-storing cells), even when the mice ate a diet aimed to make them fatter. A series of related clinical trials have evidenced that these effects are due to the ability of follistatin 315 to inhibit myostatin.
By decreasing myostatin levels, follistatin 315 can fight obesity and prevent diabetes as seen in studies of mice.
---
References:
https://pubmed.ncbi.nlm.nih.gov/9395712/
https://www.ncbi.nlm.nih.gov/pubmed/1906804
https://www.sciencedirect.com/topics/biochemistry-genetics-and-molecular-biology/follistatin
---
Sequence: G NCWLRQAKNG RCQVLYKTEL SKEECCSTGR LSTSWTEEDV NDNTLFKWMI FNGGAPNCIP CKETCENVDC GPGKKCRMNK KNKPRCVCAP DCSNITWKGP VCGLDGKTYR NECALLKARC KEQPELEVQY QGRCKKTCRD VFCPGSSTCV VOCITNNAYCV TCNRICPEPA SSEQYLCGND GVTYSSACHL RKATCLLGRS IGLAYEGKCI KAKSCEDIOC TGGKKCLWDF KVGRGRCSLC DELCPDSKSD EPVCASDNAT YASECAMKEA ACSSGVLLEV KHSGSCNSIS EDTEEEEEDE DODYSFPISS ILEW
Molecular Weight: 3470

Storage: Lyophilized peptides to be stored below -18°C

Research use only. Not for human or animal consumption!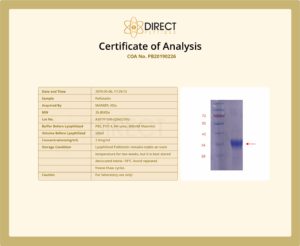 ---
Disclaimer: We do not supply peptides to Any individual under the age of 18. You must be a licensed and qualified healthcare practitioner. Our team of dedicated professionals are committed to providing an extensive range of products used in the process of medical research by responsible trained and professional individuals. All products listed on this website (https://direct-peptides.com) and provided through Direct Peptides are intended for medical research purposes only. Direct Peptides does not encourage or promote the use of any of these products in a personal capacity (i.e. human consumption), nor are the products intended to be used as a drug, stimulant or for use in any food products.